Rafiki Crafted Rooms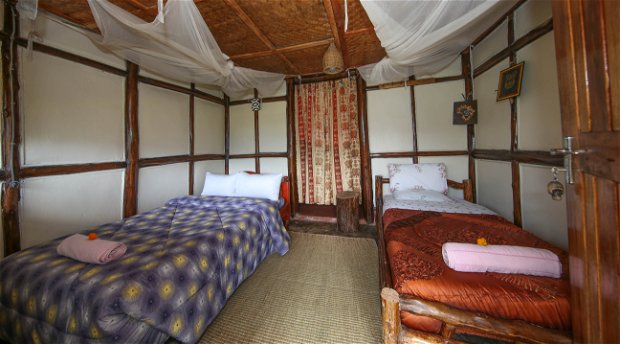 It was named Rafiki because one of the gorillas called Rafiki from nkuringo gorilla group was sighted several times feeding on the very spot where the rooms are located. This has 4 rooms each self-contained with unobstructed views of the forest with an immediate organic garden which works as our source of organic food. Once you are Lucy to visit during fruits harvesting season, you are allowed to harvest and test from the garden any of our fruits and fresh vegetables. Each room has a balcony for 2 people where you can sit and watch the forest, Birds, Mist and many more.
 Single                                  Double/Twin
Bed & Breakfast   50 $  Pay Now      90 $   Pay Now
 
Half Board             65 $   Pay Now    110 $  Pay Now
 
Full Board              80 $   Pay Now    140 $  Pay Now
 
Full Board Extra   130 $  Pay Now    240 $ Pay Now
N.B. Full Board Extra includes Breakfast, Lunch, Dinner, 4 bottles of soft drinks, 2 Bottles of wine or 6 bottles of beer per night. Dinner is always 4 course of meal. Full Board includes all meals Excluding all drinks.